PRINTED PATTERN- Edwardian Era 1910s Blouse and Guimpe Pattern- 30"-44" Bust
Regular price
Sale price
$17.00 USD
Unit price
per
Sale
Sold out
Share
Wearing History #1005

1910s Blouse and Guimpe Pattern- Circa 1909-1914
This is for PRINTED PATTERN- Mailed to you. E-Pattern download is available in a separate listing in my store.

I'm very pleased to announce an original Wearing History design for a 1910s blouse pattern. This pattern was inspired by original period pattern illustrations for a versitile blouse with a variety of uses. This is different than our other "vintage inspired" patterns, where we start with original period source material and update it to our specifications- this pattern has been based on our very own Wearing History blocks, drafted from a modern professional dress form and altered to period styling. The goal with this pattern is to provide a good middle ground between period pattern and modern sensibility- to fit the modern form yet still retain the aspects of a vintage fit and retain period styling.


From This Pattern You Can Make A Blouse/Guimpe
in the Following Variations
with Either Short or Long Sleeves

* A high neck blouse with a straight collar
* A high neck blouse with a pointed collar
* A rounded neck blouse
* A square neck blouse
* A sheer blouse with a shell lining
* A sleeveless guimpe
* A lace underblouse



This pattern has been extensively researched to be accurate in styling and cut, yet updated to be a middle ground between vintage and modern fit. The design has been inspired and researched with the use of original period patterns, period illustrations and drawings, and extant historical blouses of the period. This pattern is meant to be your "go to" basic pattern for this era as this pattern can take you from day to afternoon to evening depending on your styling and fabric choices.

This blouse is fitted by a casing on the inside of the blouse to which you can add ties or elastic to gather to fit. It is meant to be worn with skirts with a slightly raised waistline, in order to make the casing for the waist invisible when worn. The blouse fastens up the back with buttons or hooks and eyes.

This blouse is ideal as a blank canvas to use for your creative embroidery or insertion lace embellishment, and is ideal for heirloom sewing. This pattern is a basic blouse pattern to which you can embellish as you wish. This pattern does not include lace placement or trim placement- as I leave that up to your creativity! A separate e-book (https://store-21e34.mybigcommerce.com/edwardian-e-book-insertion-lace-embellishment-technique-inspiration/) is available which covers embellishment inspiration and technique which can be used with this pattern. With a little creativity, this blouse can be used as a bodice for a period dress. Instruction for converting this from a blouse to a bodice for a dress is not included.

In order to conserve paper and lower cost, this blouse is printed with the varying necklines printed on the front and back pieces, so you can trace the pattern or cut the pattern to the neckline version you desire, instead of making a more expensive pattern with separate blouse pieces for each neckline. Likewise, the sleeve is printed in one, so you can cut or trace the sleeve to shorter or longer length.

This pattern includes new step-by-step instructions with hand drawn illustrations and cutting charts for modern fabric widths.


SIZING

This blouse is meant to be worn over period foundations, including a corset and corset cover, as it is pictured in the sample photos. This blouse CAN be worn for modern wear or without corsetry.

This pattern has different sizing for Wearing History (Size Pack 1 or 2) Please compare the measurements carefully, and order by your measurements according to the chart. If you are between sizing order the larger packet as little ease is included compared with other modern commercial patterns.

Order this pattern by BUST SIZE, as the waist is adjustable with the drawstring.

Take your measurements on top of your period foundations you plan to wear this with, if applicable. Extra ease is not allowed for excess undergarments.



Size Pack 1
SIZE 4 6 8 10
BUST 30 32 34 36
WAIST 22 24 26 28

Size Pack 2
SIZE 12 14 16 18
BUST 38 40 42 44
WAIST 30 32 34 36



All patterns are in MISSES SIZING. All measurements are given in inches.

This pattern may require adjustments based on your figure, especially for the high collar versions, as the fit will depend greatly upon neck size and height, and position of the neck and shoulders.

A muslin mock up is highly recommended for all versions of this pattern, and should be done before starting insertion lace, embroidery, or other embellishment.



This blouse is best made in fabrics with a nice drape like fine cottons (lawn, batiste, etc), silk, satin, or fine linen. This can be made in all over lace fabric, and cutting lines are included for a scoop necked shell lining, as shown in the images of the lace blouse.

This blouse is shown in photographs with the upcoming Wearing History Cordelia skirt pattern (https://store-21e34.mybigcommerce.com/cordelia/) , which may be purchased seperately. This blouse does not include a belt, skirt, or embellishment design or instruction.

A free photo tutorial for basic lace insertion by machine is available on my blog (http://wearinghistoryblog.com/2012/04/tutorials-basic-lace-insertion-by-machine/) .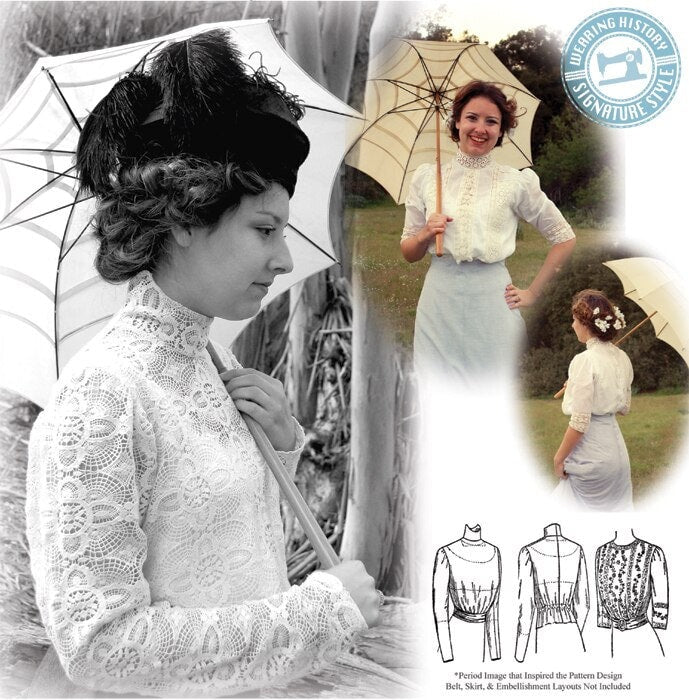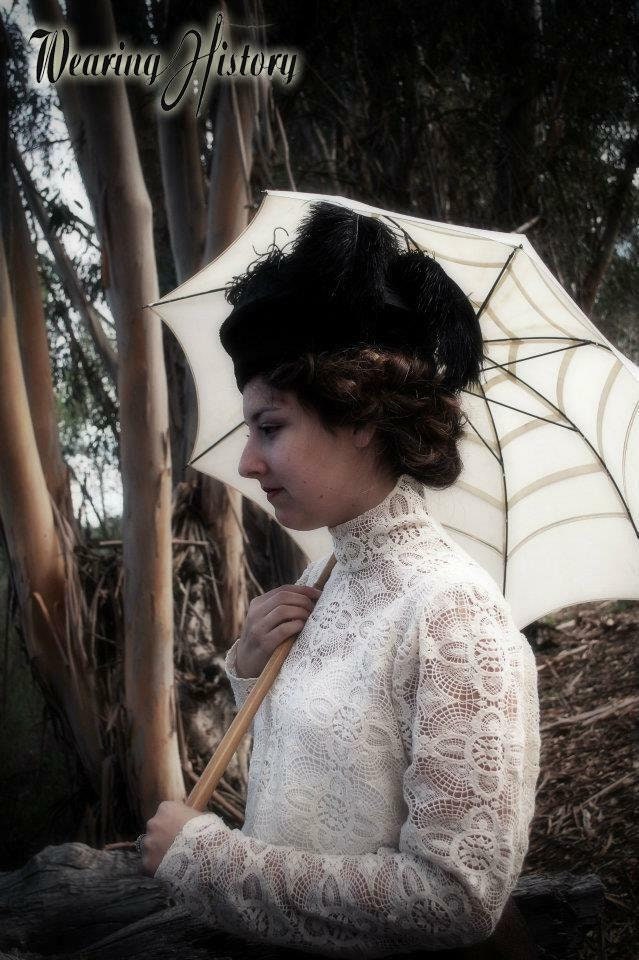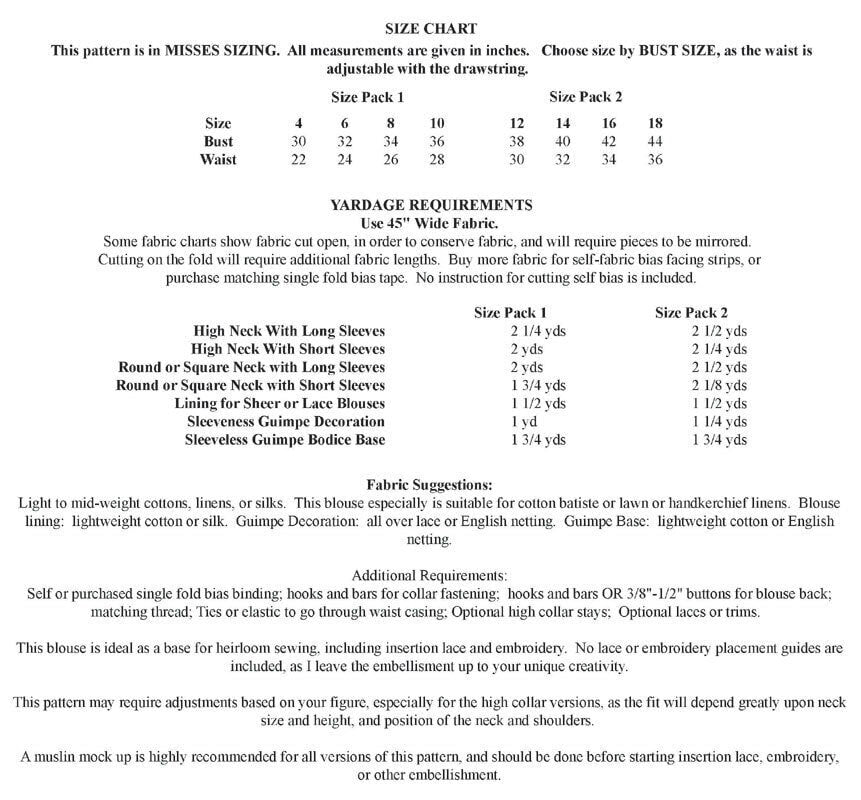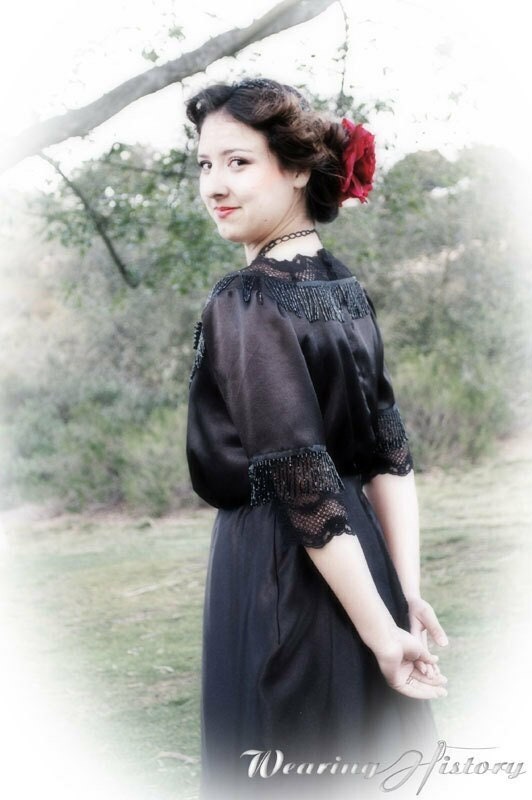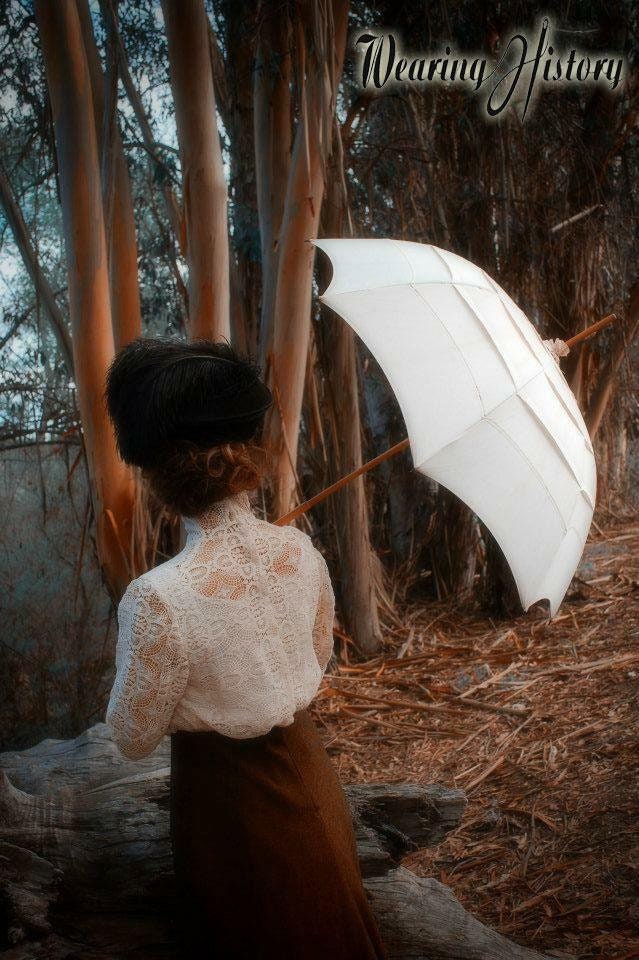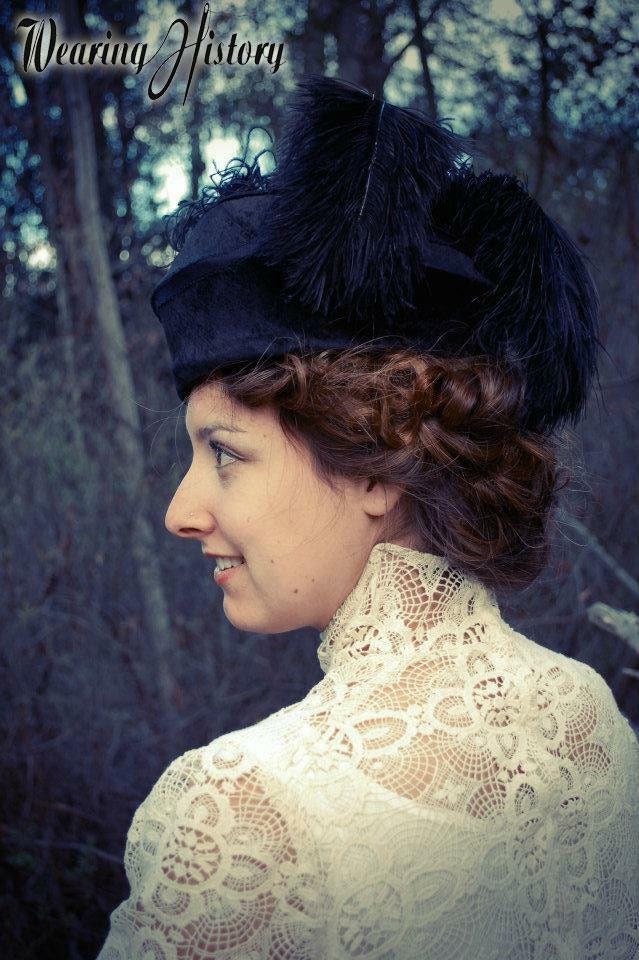 Shipping

PRINTED PATTERNS are mailed to you and already printed on big paper. Shipping is calculated at checkout. Please allow up to one week for orders to ship.

E-PATTERNS and E-BOOKS are digital download PDF files you save and print yourself or have printed for you. These will not mail to you. You download them yourself to your computer after checkout.

We do not sell to the EU or the UK on this site, as we aren't set up for VAT collection. Please shop on Etsy if you're in those countries. Http://wearinghistory.Etsy.com

HOW TO USE E-PATTERNS

Most patterns come as both A4/US LETTER and A0 size. You will need ADOBE READER, a free program, to print your e-pattern.

For A4/US LETTER paper:

Open the "READ-ME-FIRST" File for instructions on printing and piecing your pattern. Print the PDF file on your home printer, cut off on the lines given, and tape them together. Then you cut and use your pattern just as you would a normal home sewing pattern.


For A0 size:

This is sent away to a copyshop and printed on big sheets for you. We print A0 pattern sheets at great prices at Pattern Printing Company

Returns

No returns or exchanges are accepted. Please be sure of your pattern size and type of product, either physical or digital, before purchasing.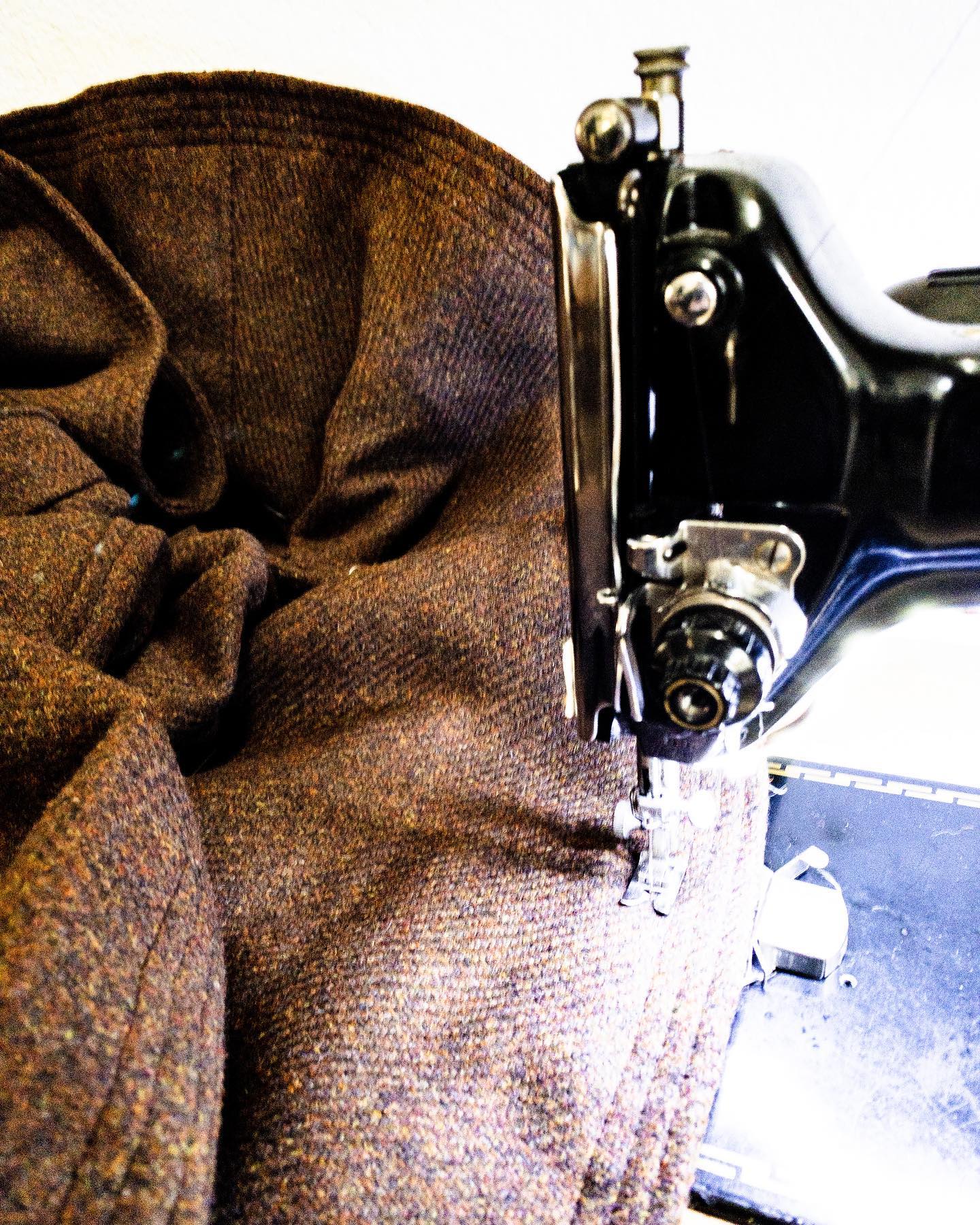 Carefully Researched
All of our patterns are carefully researched and based on either public domain materials or our own creations. Lauren applies her decades worth of practical application of historical fashion and technical skills when making these patterns, and often supplies watch points for making. External helps are available on Wearing History on YouTube and on Wearing History Blog to help you learn to sew history.