E-Pattern- 1930s Baby Layette- Dress Slip Jacket
Regular price
Sale price
$12.00 USD
Unit price
per
Sale
Sold out
Share
Wearing History R110 - 1930's Baby Layette Pattern -
E-Pattern- Print at home on Us Letter/A4 paper

Size- Infant

This Wearing History Resto-Vival pattern is based on an original vintage baby layette pattern that dates from the National Recovery Act period of 1933-1935. This pattern was considered unisex at the time and would be used both for boys and girls. This pattern includes a dress, sacque jacket, baby bag, wrapper, and slip.


--- DESCRIPTION ---

- Garments Included -

Dress- Buttons down center front with a placket. Has long sleeves and turn back cuffs. Neckline is gathered to a fitted bias facing. May be finished with lace edging.

Slip- To go under the dress. These were often called "Gertrude Slips", and buttoned at the shoulders to making changing slips easier. The gown and slip are meant to be long, but they may be shortened, as per your preference.

Sacque Jacket- A short jacket cut all in one piece with curved edges at center front. May be lined or unlined.

Wrapper- A long jacket cut all in one piece. May be lined or unlined.

Baby Bag- A cuddly blanket with a closed circular bottom that zips up the front. This was originally cut of a single layer fabric (though our sample was flat lined). If you desire a flat lining, double the fabric requirements.

- Important Notes -

This pattern is not suitable for sleepwear. Do not leave your child unattended while wearing these garments.
This pattern is based on a 1930s vintage original and original construction and fabric suggestions are provided in order to retain period accuracy of the sewing pattern. The information provided is period appropriate but may not meet current child garment standards. Please choose fabric, trims, fasteners, and notions wisely.
- Technical Notes -

Size- This pattern is in vintage "Infant" size with one size included in the packet. Vintage "Infant" size could fit children up to 6 months old. Adjustments in width and length may be required for your child.
Embroidery- No embroidery transfers were originally included with this pattern. I have included supplemented drawings based on the period cover art, or you can supplement your own embroidery patterns, if so desired. Embroidery is optional.
Pattern Layout- This pattern has been tested and improved to add to the ease of use for modern sewing enthusiasts.
Pattern Instructions- Pattern instructions are based on period original instructions. Additional notes have been included in the pattern and photo tutorials to aid with sewing will be available here.
Sample Note- The ribbons shown on the sacque and wrapper samples are wider than the ribbons called for in the period instructions.


— DIFFICULTY–

Intermediate Difficulty. Must be familiar with basic construction and vintage methods.

— SIZING —

Infant sizing. One size that fits approximately 3-6 Month old babies.

-- YARDAGE REQUIREMENTS --

Please see the photos for an image of the yardage requirements.

--About Wearing History Resto-Vival™ Patterns--

Resto-Vival™ Patterns are original historic patterns that have been restored and revived. Original patterns are usually available only in single sizes, precut from tissue paper and totally unprinted, with details like grainlines and darts indicated only by small perforations. Resto-Vival™ patterns are clearly marked with drawn and labeled markings. These markings aid the modern sewer in understanding the markings of the original pattern and the construction of the garment. Resto-Vival™ patterns follow the period shapes of the original patterns, maintaining the historical accuracy of the completed garment. Original period instructions are included. These instructions are text only (unless otherwise noted) and fairly minimal, especially compared to instructions for modern patterns. At least an intermediate knowledge of dressmaking and a good familiarity with pattern construction is suggested. You may choose to have a modern or period sewing book handy to help with basic construction methods that the pattern instructions do not cover in detail. Also, fitting a muslin mockup is strongly recommended, as all garments were meant to be worn over period foundation garments or corsetry.



- HOW TO USE THIS E-PATTERN -

YOU WILL NEED ADOBE READER, A FREE PDF READER PROGRAM, IN ORDER TO OPEN AND PRINT THIS PATTERN.



This pattern is formatted for USA Letter Size and A4 sized paper. You will need to print this pattern to 100% scale. Open the "READ-ME-FIRST" File for instructions on printing and piecing your pattern.

This pattern is tiled into letter sized paper. You will print these documents on your home printer, cut, and tape them together, to form a larger pattern layout. Then you cut and use your pattern just as you would a normal home sewing pattern.

This pattern comes in 1 zip file that includes the pattern and instructions, and 1 pdf for how to print. This pattern uses a LOT of paper.

For All Garments-

Sewing Instructions- 12 sheets of US Letter or A4 Size Paper
US Letter & A4 Size- 49 sheets for all garments.
US Legal (8.5 x 11)- 33 sheets for all garments.
1 for the e-pattern "how to" sheet.
Individual pattern layouts are also included in case you only want to make a few of the garments included.

Dress- 12 Pages US Letter or A4 Size. 10 Pages Legal Size.
Slip- 9 Pages US Letter or A4 Size. 8 Pages Legal Size.
Sacque- 8 Pages US Letter or A4 Size. 4 Pages Legal Size.
Wrapper- 12 Pages US Letter or A4 Size. 8 Pages Legal Size.
Baby Bag- 14 Pages US Letter or A4 Size. 12 Pages Legal Size.
You will still need to print the Sewing Instructions and "how to" sheet as listed above.




--- USE POLICY ---
By purchasing this pattern you agree to the following terms: This e-pattern is licensed exclusively to the person who purchases this pattern from Wearing History for the sole purpose of home sewing use by the individual who purchases the pattern. Commercial or production use or making items to sell from this pattern is prohibited. Do not share this pattern by email or any other form. Remember, I make my living by using my talents to make these patterns available. Help support indie small business by telling your friends to purchase their own copy of this pattern from http://wearinghistory.etsy.com


Please view my other items by visiting my store, and read my shop policies prior to ordering. Thanks!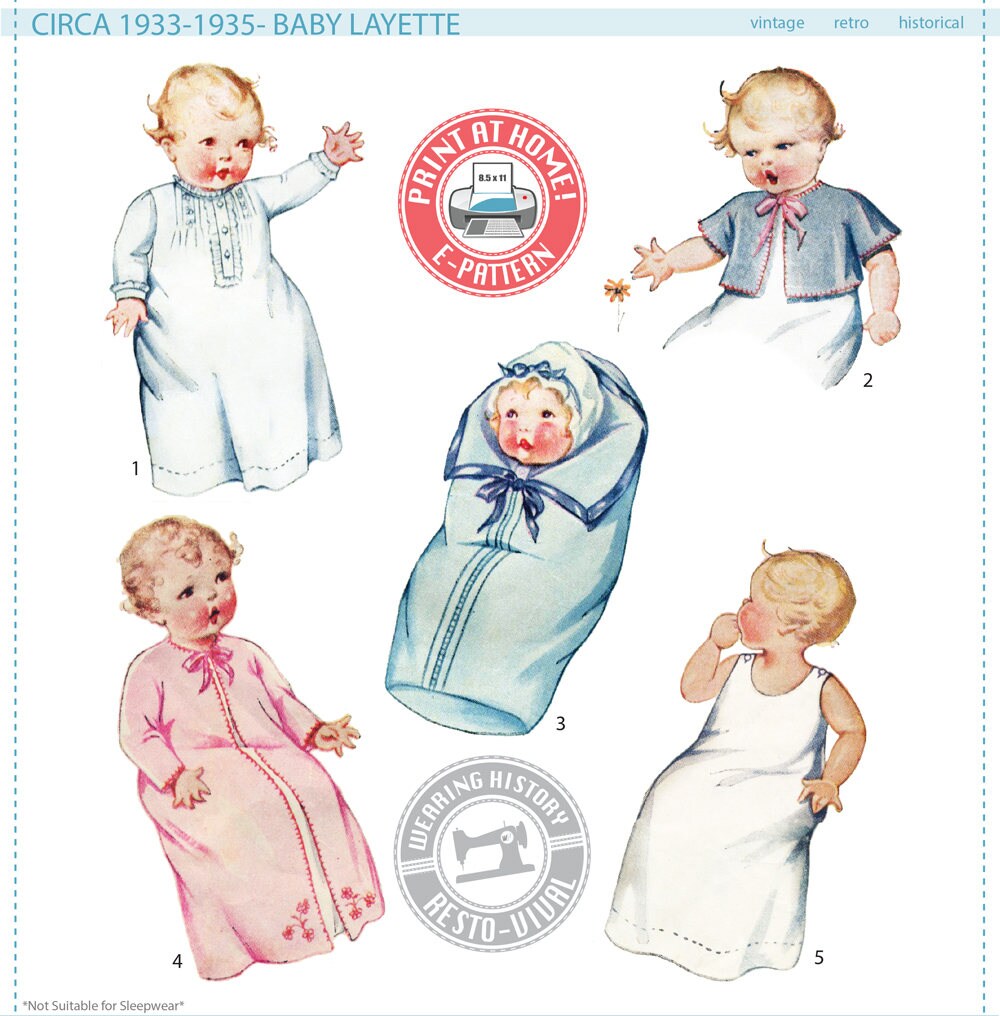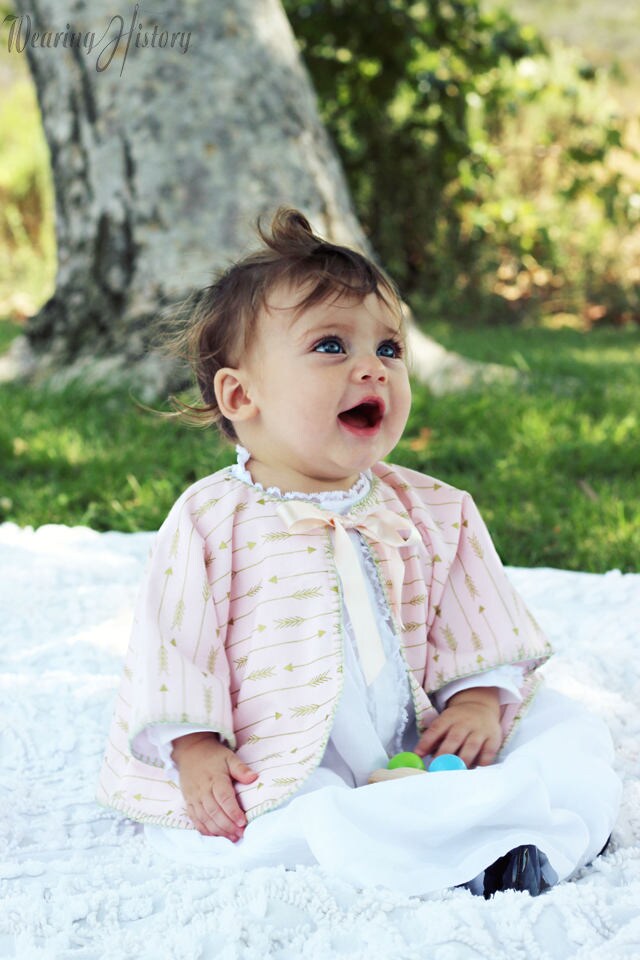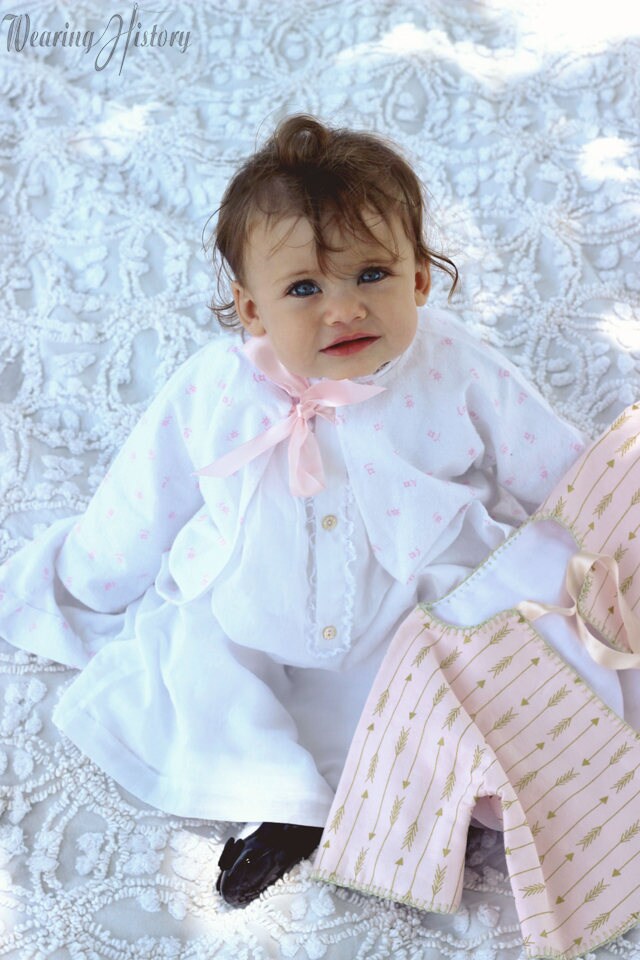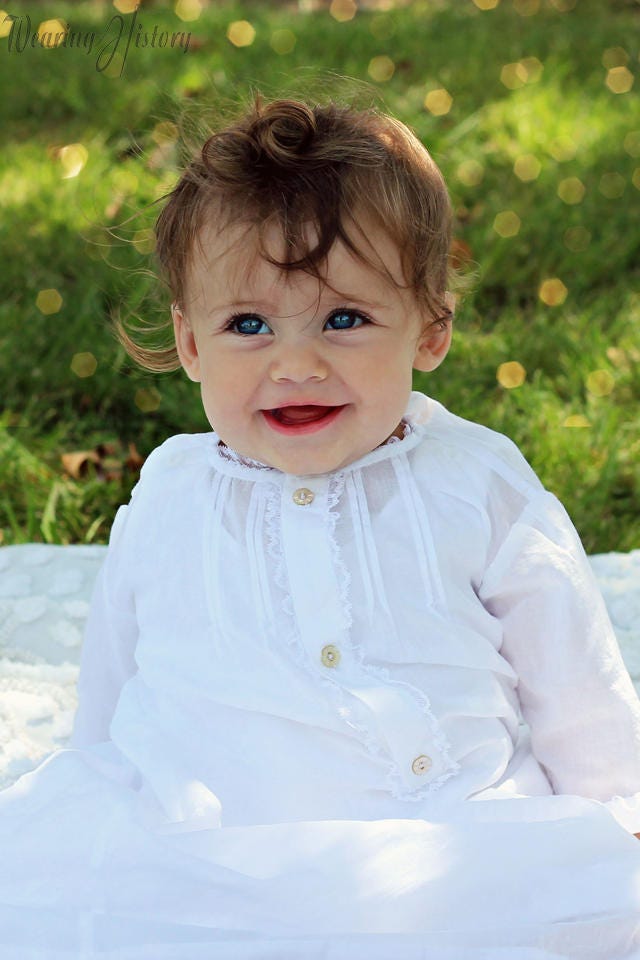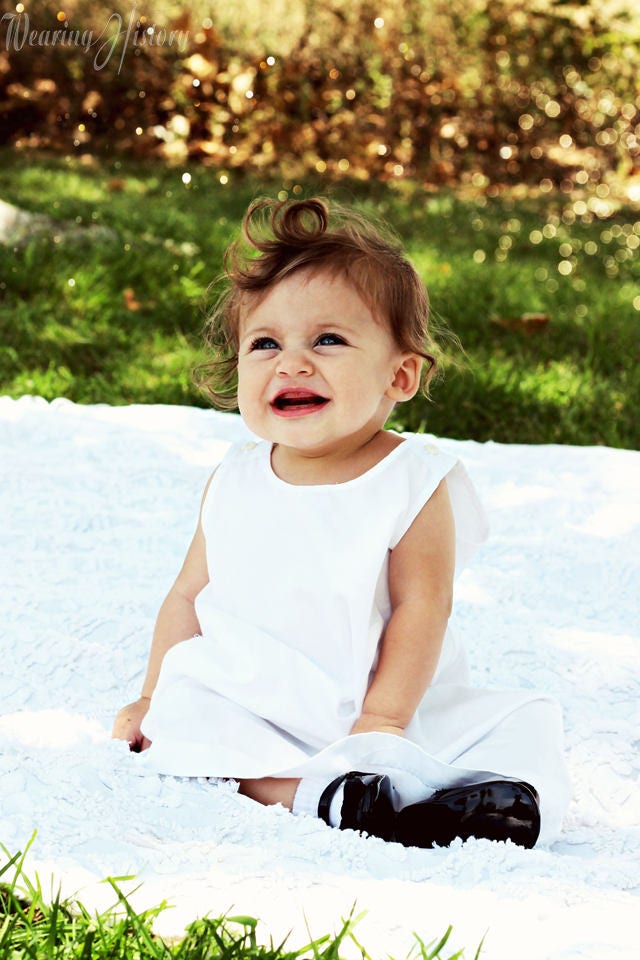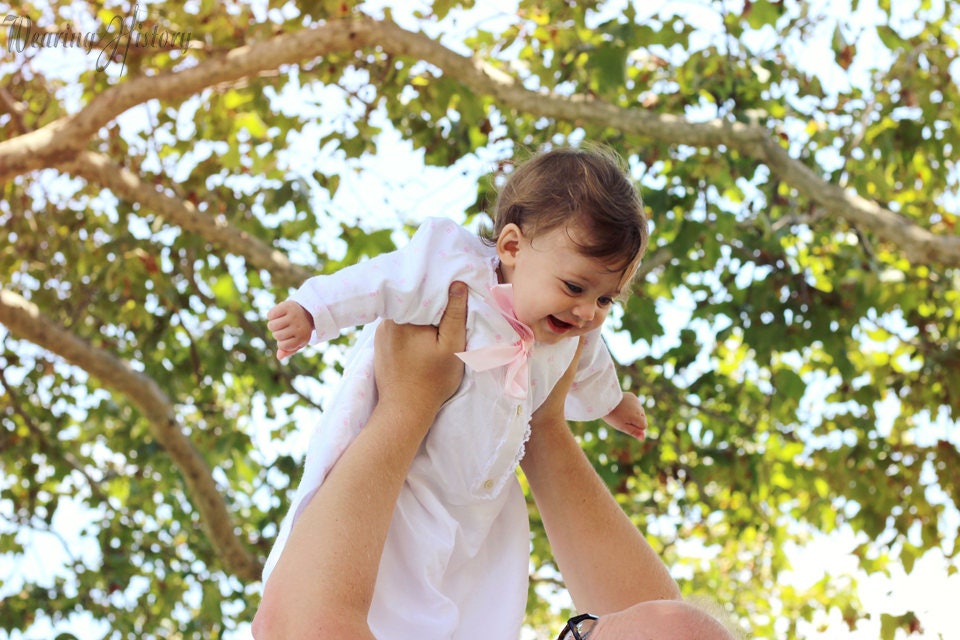 Shipping

PRINTED PATTERNS are mailed to you and already printed on big paper. Shipping is calculated at checkout. Please allow up to one week for orders to ship.

E-PATTERNS and E-BOOKS are digital download PDF files you save and print yourself or have printed for you. These will not mail to you. You download them yourself to your computer after checkout.

We do not sell to the EU or the UK on this site, as we aren't set up for VAT collection. Please shop on Etsy if you're in those countries. Http://wearinghistory.Etsy.com

HOW TO USE E-PATTERNS

Most patterns come as both A4/US LETTER and A0 size. You will need ADOBE READER, a free program, to print your e-pattern.

For A4/US LETTER paper:

Open the "READ-ME-FIRST" File for instructions on printing and piecing your pattern. Print the PDF file on your home printer, cut off on the lines given, and tape them together. Then you cut and use your pattern just as you would a normal home sewing pattern.


For A0 size:

This is sent away to a copyshop and printed on big sheets for you. We print A0 pattern sheets at great prices at Pattern Printing Company

Returns

No returns or exchanges are accepted. Please be sure of your pattern size and type of product, either physical or digital, before purchasing.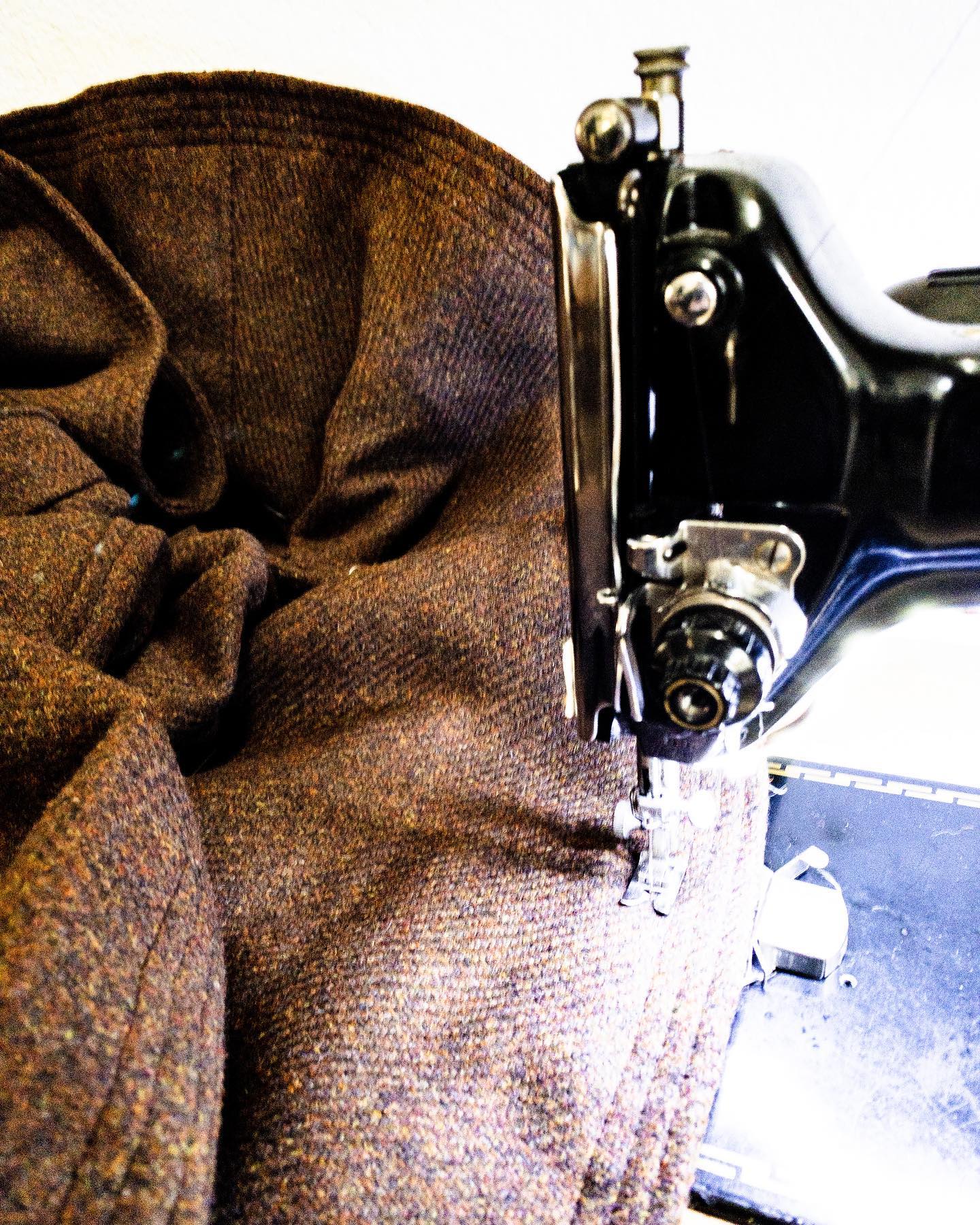 Carefully Researched
All of our patterns are carefully researched and based on either public domain materials or our own creations. Lauren applies her decades worth of practical application of historical fashion and technical skills when making these patterns, and often supplies watch points for making. External helps are available on Wearing History on YouTube and on Wearing History Blog to help you learn to sew history.