E-Pattern- 1910s Suit- Circa 1916- Jacket & Skirt- Bust 34"-46", Waist 24"-36"
Regular price
Sale price
$16.00 USD
Unit price
per
Sale
Sold out
Share
Wearing History #R109- 1910s Suit- Circa 1916
Circa 1916

Multi-Size, Bust 34"-46", Waist 24"-36"

Intermediate-Advanced Sewing Skill Recommended
Many thanks to @sophia___khan on Instagram for her gorgeous photos!


This listing is for an E-Pattern to print yourself at home on your home printer's USA letter and A4 sized paper. Also includes A0 copy shop files.


--- DESCRIPTION ---
A Resto-Vival pattern from the WWI or Great War period and is suitable for looks from 1915-1920.

The Jacket is cut very full and pulls in to the waist with the belt.

All Sizes Included in This Pattern
Sizes are to the original size specifications of the time period.
Take all measurements over period foundations or corsetry you plan to wear with this garment.

Size 34 36 38 40 42 44 46
Bust 34 36 38 40 42 44 46
Waist 24 26 28 30 32 34 36
Hip 37 39 41 43 45 47 49


The Jacket Features:

Collar options of notched at front and pleated or unpleated at the back, or "plain" or shawl collar.
Both collar options are squared at the back, similar to a "sailor" collar.
Optional shaped pockets and cuffs
Cut in two lengths- either a shorter jacket with no pockets, or a longer jacket.
Easily adaptable to WWI era looks!
Paired with a slim skirt, the jacket can carry you into the early 1920s looks.
The Skirt Features:

A high waist, hitting about 2" above the natural waistline.
An A-Line cut that falls from the top of an fitted interior waistband (not fitted at natural waist)
Fastens at the front, under the stitched overlap which can be accented with buttons.
A fun shaped decorative applied waistband that can be accented with buttons.
Gathers at the back, peeking out from under the applied waistband
Cut in two lengths- a shorter length that is perfect for WWI, or a longer length that can work for earlier Edwardian styles.

This pattern includes original period instructions which are very minimal and mostly text only.

You can see sew-a-long posts on my blog for photos of how this goes together! We also have a Facebook group you can join if you'd like to be part of a group making this pattern up together. http://wearinghistoryblog.com



This Pattern Includes:

Primarily written instructions, which are very minimal, transcribed directly from this nearly century-old pattern.
New pattern markings, to aid in understanding the pattern piece (original was unmarked).
Addition of a new collar option, drafted by me.
A restored pattern based off of a period original with pieces tested and corrected to aid in ease of use.
New cutting charts and yardage complied by me
A multi-size pattern, all sizes in one packet. The original was single size, in a 36" waist.
Access to the public SEWING TUTORIAL posts on my blog which will help with understanding this pattern and include photographs of the construction as it progresses
Free access to our private Facebook group, open to everyone who wishes to join.


This Pattern DOES NOT include:
NO step-by-step illustrations to go with instructions
NO cutting charts for individual sizes- all new cutting charts are for a stacked, graded pattern so some sizes may require less fabric.
NO detailed instruction, only the period instructions with a few additions by me
NO hem allowance given for the skirt, as with the original pattern. More fabric may be purchased or it may be finished with a facing.

This video can help understand the skirt waistband:


- HOW TO USE THIS E-PATTERN -

YOU WILL NEED ADOBE READER, A FREE PDF READER PROGRAM, IN ORDER TO OPEN AND PRINT THIS PATTERN.

This pattern is formatted for USA Letter Size and A4 sized paper. You will need to print this pattern to 100% scale. Open the "READ-ME-FIRST" File for instructions on printing and piecing your pattern.

This pattern is tiled into letter sized paper. You will print these documents on your home printer, cut, and tape them together, to form a larger pattern layout. Then you cut and use your pattern just as you would a normal home sewing pattern.



This pattern comes in 4 files, and uses a LOT of paper.

50 sheets of paper for the jacket pattern
38 sheets of paper for the skirt pattern
12 sheets are needed for the instruction pack
1 for the e-pattern "how to" sheet.
101 total sheets of 8.5" x 11" sized paper or A4 sized paper are needed to make all garments in this pattern. This pattern file is formatted to fit on both sizes of paper, and there will be varying thicknesses of white border, which will be cut off, according to pattern instructions.



--- About Wearing History Resto-Vival™ Patterns ---

Resto-Vival™ Patterns are original historic patterns that have been restored and revived. Original patterns are usually available only in single sizes, precut from tissue paper and totally unprinted, with details like grainlines and darts indicated only by small perforations. Resto-Vival™ patterns are clearly marked with drawn and labeled markings. These markings aid the modern sewer in understanding the markings of the original pattern and the construction of the garment. Resto-Vival™ patterns follow the period shapes of the original patterns, maintaining the historical accuracy of the completed garment. Original period instructions are included. These instructions are text only (unless otherwise noted) and fairly minimal, especially compared to instructions for modern patterns. At least an intermediate knowledge of dressmaking and a good familiarity with pattern construction is suggested. You may choose to have a modern or period sewing book handy to help with basic construction methods that the pattern instructions do not cover in detail. Also, fitting a muslin mockup is strongly recommended, as all garments were meant to be worn over period foundation garments or corsetry.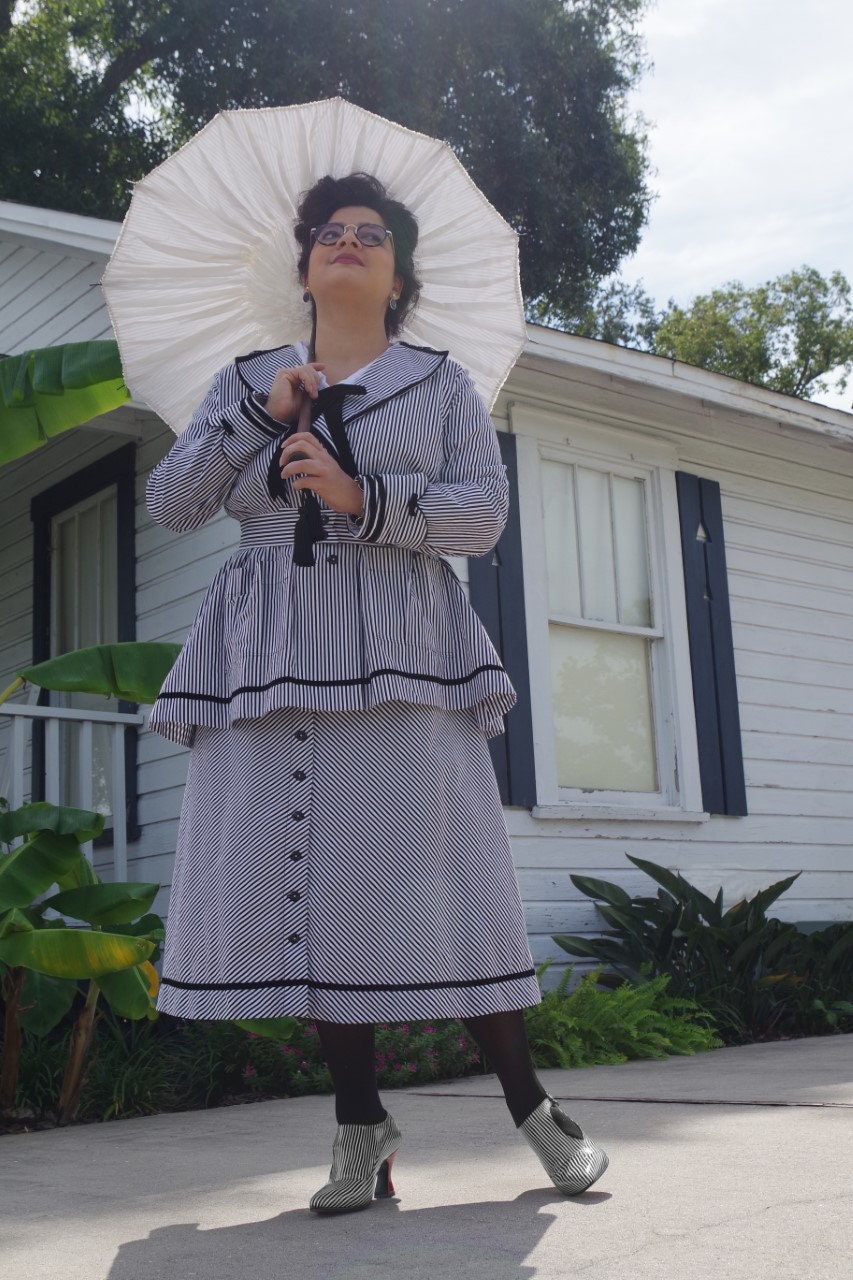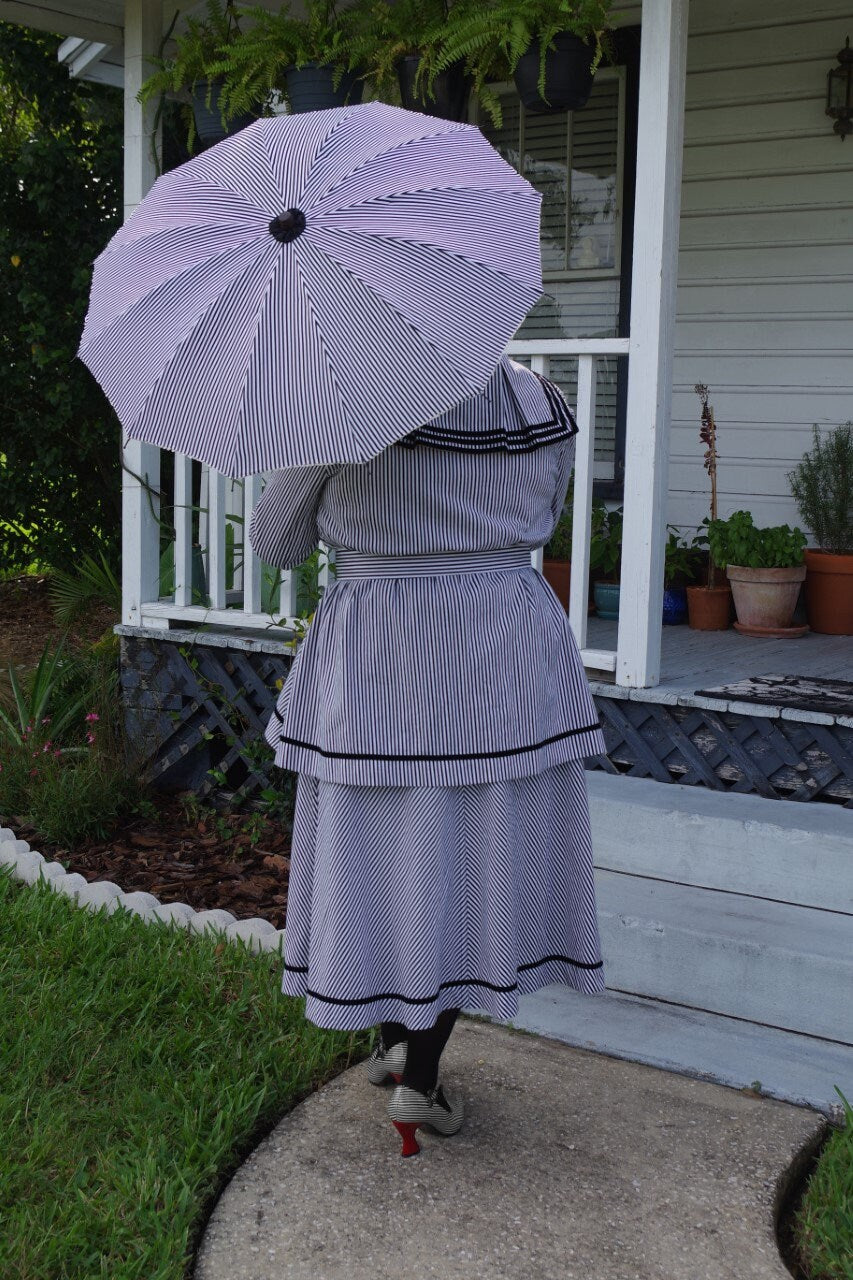 Shipping

PRINTED PATTERNS are mailed to you and already printed on big paper. Shipping is calculated at checkout. Please allow up to one week for orders to ship.

E-PATTERNS and E-BOOKS are digital download PDF files you save and print yourself or have printed for you. These will not mail to you. You download them yourself to your computer after checkout.

We do not sell to the EU or the UK on this site, as we aren't set up for VAT collection. Please shop on Etsy if you're in those countries. Http://wearinghistory.Etsy.com

HOW TO USE E-PATTERNS

Most patterns come as both A4/US LETTER and A0 size. You will need ADOBE READER, a free program, to print your e-pattern.

For A4/US LETTER paper:

Open the "READ-ME-FIRST" File for instructions on printing and piecing your pattern. Print the PDF file on your home printer, cut off on the lines given, and tape them together. Then you cut and use your pattern just as you would a normal home sewing pattern.


For A0 size:

This is sent away to a copyshop and printed on big sheets for you. We print A0 pattern sheets at great prices at Pattern Printing Company

Returns

No returns or exchanges are accepted. Please be sure of your pattern size and type of product, either physical or digital, before purchasing.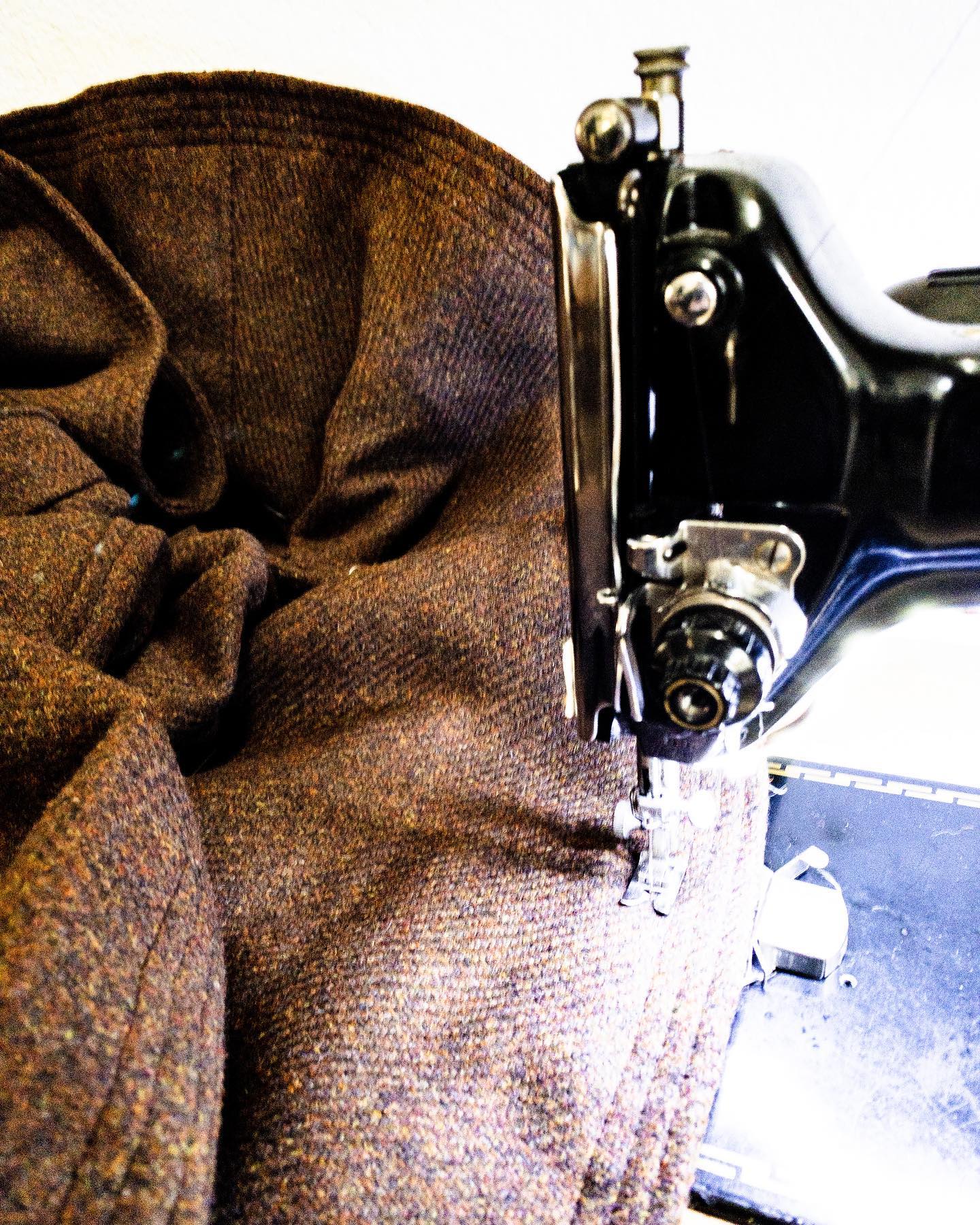 Carefully Researched
All of our patterns are carefully researched and based on either public domain materials or our own creations. Lauren applies her decades worth of practical application of historical fashion and technical skills when making these patterns, and often supplies watch points for making. External helps are available on Wearing History on YouTube and on Wearing History Blog to help you learn to sew history.